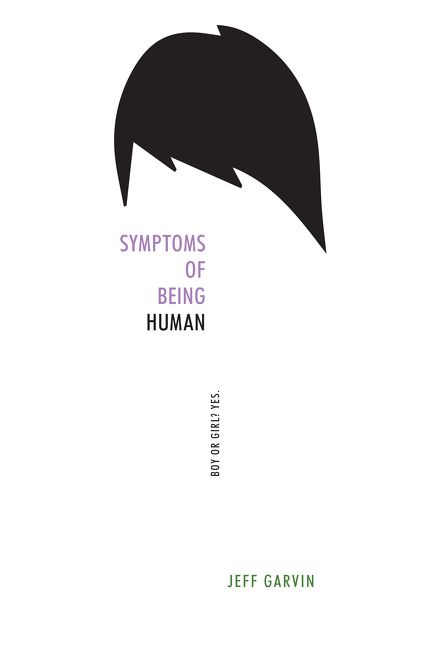 Title: Symptoms of Being Human by Jeff Garvin
Rating: 4.5/5
Two-sentence summary: When snarky, yet sensitive Riley Cavanaugh starts at a new school, the last thing they want is for people to find out they're genderfluid. When their anonymous gender identity blog goes viral, however, they worry that their identity is too large a part of themselves to keep secret.
Portrayal of LGBTQ issues: This novel features a genderfluid protagonist named Riley who comes out, first to their therapist and ultimately their friends and family. The author makes a pretty bold narrative choice in that he doesn't reveal Riley's birth sex. While some may find this confusing or annoying, I think it emphasized that their birth sex shouldn't change how you see or define them. Symptoms of Being Human also has several trans minor characters and discusses sexual assault, suicide, and bullying through a queer lens.
What I loved: Riley's is a powerful story, one that has the potential to help people feel comfortable with who they are and others understand people who identify differently from them. It delves pretty deep into non-binary identity, which is informative without weighing down the text or interrupting the story. It feel like an authentic story about how being a closeted genderfluid teen feels, especially when that identity's at odds with their community's values. Even though this book is written by a cisgender author, it felt well-researched, in part because the author consulted non-binary and trans people while writing this story.
Riley themself is a compelling narrator, with a voice that's equal parts sarcastic and vulnerable. And they grow so much over the course of three hundred pages! Seeing them gain wisdom and courage about who they are and how they can stand for others like them is beautiful and truly inspiring. They begin Symptoms of Being Human closeted and suicidal and, while they go through some truly heartbreaking circumstances, they gain so much strength and compassion for themself and people in general.
The only reason I didn't give this book a 5/5 was because one scene was so disturbing to me that I skipped a section and would hesitate before re-reading the book again, but that really is a personal rather than quality issue. And if anything, it speaks to the novel's emotional strength and the relevancy of the topics it portrays. That being said, though, if you're triggered by sexual assault scenes, it's worth researching the book's content before you read it.
Also, this is random, but I listened to the audiobook for this one and found it really cool that they chose a transgender voice actor! In my opinion, it added to the authenticity with which they narrated Riley's story.
Quote: "As for wondering if it's okay to be who you are – that's not a symptom of mental illness. That's a symptom of being a person."
Recommended: This was such a powerful read. I don't think that there's a person I wouldn't recommend this to unless its subject matter triggers them. But I'd especially recommend it to two groups of people. First, non-binary people who want to feel a little less alone and a little more comfortable with who they are. And second, cisgender readers who want to understand the diversity of the gender spectrum more, as well as the harassment trans and non-binary people face.