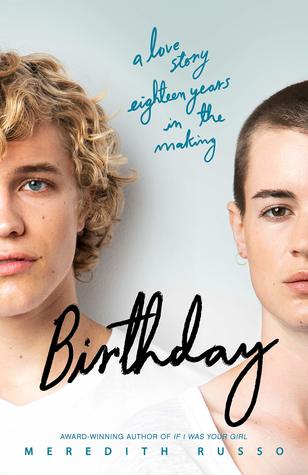 Title: Birthday by Meredith Russo
Rating: 4/5
Two-sentence summary: Morgan and Eric are two teenagers who were born on the same day. That makes them bonded for life, even if their journeys take them in very different (yet connected) directions.
Portrayal of LGBTQ issues: Morgan is a transgender girl whose identity develops over the course of the novel. We're able to see these characters once a year (on their birthdays) and so we watch her as she discovers that her inherent femininity won't just go away. But because she realizes these truths in her conservative community, it takes her some time to find a place in the world where she belongs.
What I liked: I already had a lot of faith in this book before I started reading it because Meredith Russo is one of the best writers I've read in queer YA. Not only does she write unique characters whose stories are important to hear, but her prose itself is so beautiful. Although we only get to experience Morgan and Eric's worlds for six birthday, she crafts lives and emotions for these characters that feel real. It's vulnerable and authentic, and it's not just a story about queer identity – it's a story about what it means to accept yourself and others in a world that sometimes teaches the opposite.
As far as the novel's format goes, I usually have extreme reactions to experimental novels like this: I'm either crazy for them or I hate it. In this case, I loved that we follow Morgan and Eric throughout their birthdays over the course of the novel. What I think Birthday makes clear overall is that so much can change in a year. It's powerful to see Morgan and Eric change and become more authentic versions of themselves over time, as well as how they influence each other to face who they are inside.
"Maybe that's what life is about: surviving what you can't control and clinging to the good things the winds whip up."
Recommended: Meredith Russo is one of my favorite queer YA writers. Her book If I Was Your Girl is my go-to recommendation for transgender fiction because she portrays the emotional complexity of being trans so well. I'd recommend Birthday for similar reasons. Both Morgan and Eric face real and meaningful challenges as they come to terms with who they are, and I think that the author does an excellent job at writing a story with equal parts humanity and heart.
Note: I was given an ARC in exchange for a fair review.