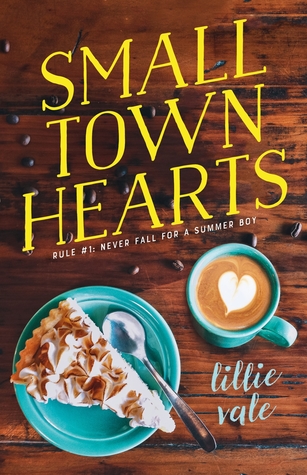 Title: Small Town Hearts by Lillie Vale
Rating: 4/5
Two-sentence summary: Babe Vogel is happy to disappear into her work as a barista after a rough break-up with her ex-girlfriend. But when a cute artist named Levi starts frequenting her coffee shop, she might just have to break her rule to never date the customers.
Portrayal of LGBTQ issues: For those who call bi people who date the opposite sex "faking it" in some way, I'd like to point them to this YA contemporary romance. Babe is an openly bi girl who recently broke up with a girl and falls in love with a boy. Just because she's interested in a guy, though, doesn't make this any less of a queer YA novel. If anything, I think it shows just how nuanced the LGBT community is and how important it is for everyone's voices to be heard–especially when bi erasure is so common no matter who they decide to date.
What I liked: Like most meet cute books, this one was adorable from start to finish. Even though Babe's going through a rough break-up and trying to keep herself from falling in love, she spends just as much time discovering more about herself and growing as a result. She becomes more comfortable with her sexuality and herself in general, and she finds ways to have confidence whether she's in a relationship or not. I think it's important to show that kind of personal growth in YA romance books to show that partners can make our lives happier, but they should never be how you define your self worth.
Levi and Babe also had excellent chemistry. I've heard before that the sign of a good love story is that the characters learn from each other and become better people. In this case, it's true. Babe learns to trust in the people around her again and take risks when it comes to opening up. And Levi starts to discover what his purpose is in the world as an artist and a human being. It's a healthy and sweet relationship, and the discussions about sexuality and unconditional love make it even more vulnerable.
I think it's important to mention that while on the whole this is a light read, there are a few difficult subject in this book as well. Alcohol and drugs are mentioned a few times, and it's implied that Babe's ex and her old friends were manipulative (if not abusive). If those are triggering topics for you, check out a few more reviews before opening this book up but know that even in the darker scenes, the story does end happily.
Recommended: This was a cute read that felt very much like a romantic comedy. And the best YA romance book to start spring with–it's unique, sweet, and (most importantly) super duper queer. Plus, who doesn't love a meet cute that turns into a coffee shop romance?
Note: I'm happy to have participated in the blog tour for Small Town Hearts! To check out more stops on this tour, visit Xpresso Book Tours' website.