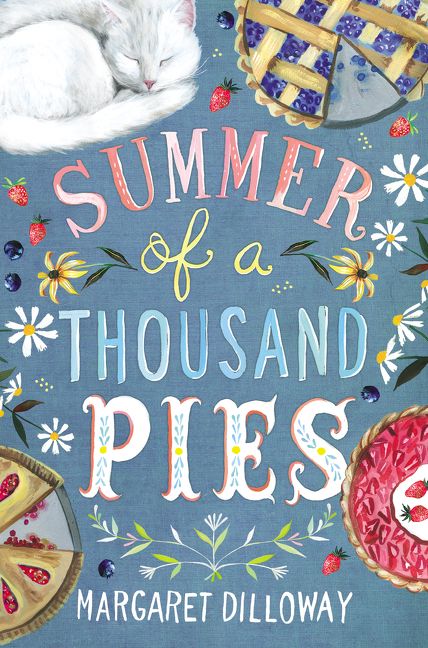 Title: Summer of a Thousand Pies by Margaret Dilloway
Rating: 4.5/5
Two-sentence summary: Twelve-year-old Cady has never met her Aunt Shell but is sent to her countryside home for the summer. But can she, Aunt Shell, and her aunt's partner Suzanne save their struggling pie shop from bankruptcy?
Portrayal of LGBTQ issues: Summer of a Thousand Pies features a lesbian couple, Aunt Shell and Suzanne, who care for Cady after Child Protective Services relocates her from her dad. For the most part, the aunts don't face any backlash from their community as a same-sex couple raising a child. Their sexual orientation is less a conflict in the story as it is something that makes their characters feel more nuanced and human.
What I liked: When I saw the cover for Summer of a Thousand Pies, I thought I'd be settling into a fun and lighthearted middle grade contemporary. I was wrong. This is a beautiful, important book, but it doesn't deal with easy themes. Cady's mother has died and her grief-stricken father descends into alcoholism to the point where she has to live with her Aunt Shell. Her aunt's pie shop is run with equal amounts of passion and joy, but it isn't easy to thrive as a small bakery. And Cady's new friend Jay, whose parents are undocumented and works at Aunt Shell's bakery, depends on the pie shop staying open to keep from going homeless.
But that doesn't mean that this book is free of uplifting moments. Thanks to her aunts and her new friends, Cady's is able to let down her guard and trust the people she loves the most for the first time in her life. Through baking and immersing herself in life with Aunt Shell, Cady is able to heal from the loss of her mother and her father's mental health issues. Summer of a Thousand Pies is an example of how middle grade can delve into just as real and heartbreaking issues as YA, as well as queer representation, in a way that's appropriate and helpful for its young readers.
Recommended: This is hands-down one of the best and (no pun intended) sweetest LGBT middle grade books I've read. I'd recommend it to elementary and middle school students in particular but also teachers who are looking for a way to introduce LGBT characters to their students in a compassionate and normalizing light
Note: I was given an ARC in exchange for a fair review.