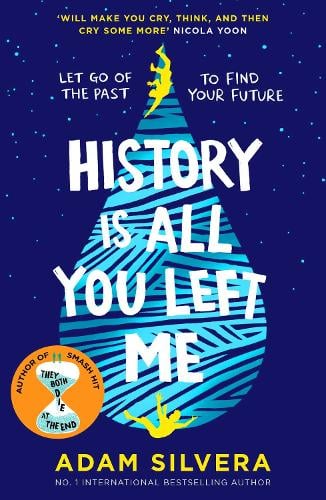 Title: History is All You Left Me
Author: Adam Silvera
Rating: 4.5/5
Two-sentence summary: When Griffin's best friend and ex-boyfriend Theo dies in a drowning accident, the only person who understands is Theo's current boyfriend, Jackson. But between his grief and obsessive compulsive episodes, Griffin is stuck processing Theo's loss in a history of painful memories and broken "what-ifs."
What I loved: Notice how that quote by Nicola Yoon on the cover says, "Will make you cry, think, and then cry some more?" That about describes the emotional waves that this book put me through. History is All You Left Me creates a great balance of thought and raw emotion. Not only does it depict Griffin's grief following an unexpected tragedy but also how memories and relationships shape us into who we are—in good and bad ways. The pain is striking in a familiar way for those who have fallen in love with someone they eventually had to let go of.
When a relationship ends for any reason, part of yourself dies with that just as another part starts growing, and this novel tracks Griffin's full growth as a human being from his first kiss to his resolution to love Theo, but let him go. The novel also features a complex depiction of OCD that goes beyond the "cleaning" and "organizing" compulsions in a way that more matched my own experiences with it. Not only did this make Griffin a more complex character, but it gave depth to a mental illness that is often cliched in pop culture.
Quote: "People are complicated puzzles, always trying to piece together a complete picture, but sometimes we get it wrong and sometimes we're left unfinished. Sometimes that's for the best. Some pieces can't be forced into a puzzle, or at least they shouldn't be, because they won't make sense."
Recommended: This is a little heavy of a read, so I would recommend this novel if you're in a good mental "headspace." It's a beautiful and meaningful book, but one that could take time to process without letting it weigh you down. But as with every Adam Silvera novel I've read so far, perfect if you want a complex, thought-provoking queer YA book!
Next: One True Way by Shannon Hitchcock