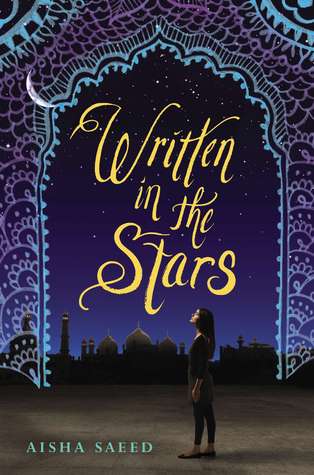 Title: Written in the Stars
Author:  Aisha Saeed
Rating: 3.5/5
Two-sentence summary: When Naila's conservative parents learn that she's made friends and fallen in love with a boy, they find her a husband and force her into an arranged marriage. Naila, now cut off from her friends, her college, and her boyfriend, must find a way to return home and take control of her own destiny.
What I loved: This book puts you so directly into Naila's heart and mind that you feel for her as she fights to escape this arranged marriage. For her, this task isn't so easy as just leaving the situation. Her husband and his family are abusive, and her uncles kidnap and threaten to kill her if she runs away. She risks everything she has—her reputation, her family, and even her life—because to her, life's not worth living without authenticity. Although she seems trapped in a hopeless situation, Naila's ability to find hope and strength from within saves her. I feel that many people, including myself, could learn from her quiet bravery.
Quote: "Love is about the good moments, but it's about holding on to each other during the difficult ones, too. Coming out on the other side, weathered but still holding hands, isn't easy. It's the most difficult thing there can possibly be, but I know now it's the truest test of love there is."
Recommended: Yes, this book was a well-written story on love, tradition, and the risks women take when fighting for their independence. I think it's important to note, though, that this book has a rape scene that may trigger some readers. If you think this might be too much for you, take caution before reading this book. But, though upsetting, the scene does give insight into the pain that so many women trapped in forced or abusive marriages face. It's difficult to read, but that doesn't detract from its importance.
Next: Chaotic Good by Whitney Gardner